Facial cosmetic surgery abroad
Having reached a certain age, the face may have some inevitable signs of aging. These signs include sagging skin and muscles of the face and neck, reducing the volume, distortion of the facial roundness...
The goal of facial plastic surgery is to correct the aspects mentioned above, recreating the beauty of the face and restore a youthful expression.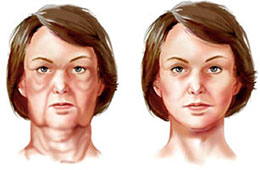 In this context, Jean Cocteau said: «A fault of the soul cannot be fixed on a face, but a face default if we can fix, corrects a soul."
The face his old mark by a change in the anatomical structures at three levels:
The aging of the skin : the skin becomes delicate, wrinkled and its color turns to gray with the presence of brown spots. Aesthetic medicine provides several ways to treat this problem cures that serve the aging of the skin surface. These are the following interventions: the peeling, the fillers, Botox, mesolift and PRP (Platelet Rich Plasma).

Skin facial aging

The sagging skin and underlying tissues (muscles and fat) in the face area, neck and the eyes, especially the eyelids. In order to restore their refreshed and rejuvenated aspects, patients with these problems mentioned above make use of face and neck lift and eyelid surgery interventions .

Facial aging

The decrease in facial volumes : there are several techniques that aim to give the face its desired volume. face fat transfer or filling either by hyaluronic acid or fat grafting forms all of these techniques.

Volume loss with aging face
each case has its specificity and particularity, that is why Dr Bouzguenda, your cosmetic surgeon in Tunisia, listen carefully to your complaints and take note of your discomfort during your first consultation with her, she will advise and guide you towards the most appropriate solutions that is specifics of your case.
She will also examine your face; analyze very carefully in order to offer you the proper approach which most closely matches what you want. Taking into account your wishes, Dr. Bouzguenda performs cosmetic surgery in Tunisia that refreshes your face while getting a harmonious and natural result.
If released to the skin areas of the face and neck: face and neck lift.
In case of releasing the eyelids (wrinkled and droopy eyelids), or if the presence of bags under the eyes: Eyelid surgery
In case of reduction of facial volume: face fat transfer or face lipostructure.
In case of separation of ears: otoplasty.
If you tear or elongation of the earlobes or in case of split lobes: Surgery earlobes.
Face plastic surgery abroad